Okay, so YJ told me making hummus is easy. So I figured it was about time for me to attempt it. And what better to accompany hummus than some homemade olive oil crackers? Indeed.
The recipe I found online used
semolina
flour, an Italian flour that is sometimes used to make pasta.
All the ingredients mixed together (including the olive oil):
The dough is very... pleasant? To handle, I mean. It's slightly tacky, but not sticky, and has a nice pull to it, even though there is no yeast. It's like magic dough. So cut the dough into twelve equal pieces, and roll them into balls to rest for a bit.
(While they're resting, you can make the hummus. But more on that in a minute.)
Then use a rolling pin or a pasta roller (but who owns a pasta roller, seriously?), roll each ball as thin as you can without tearing it. It does feel a little bit like making pasta. Maybe I should try that sometime, hmmm. Anyway, after rolling, use your hands to stretch it a bit more, like pizza dough. I like to just let the weight of the dough pull upon itself.
Lay them out on a baking sheet or a pizza stone. I sprinkled the crackers with sea salt, sesame seeds, and poppy seeds.
Bake! And keep an eye on the crackers towards the end, because they can burn pretty quick. Break them up and serve. (You could also score them before baking if you are really concerned about even-shaped crackers. I think they look more homemade with a free-form break.)
Okay, hummus is super easy. Get your blender or food processor. Chuck everything in.
Blend, drizzle in more olive oil to get the consistency desired, and let it go until smooth.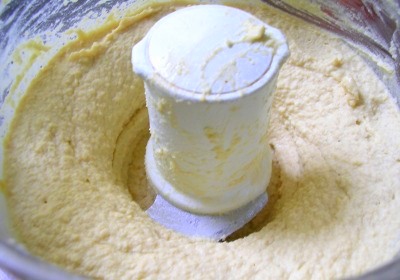 Serve with a drizzle of olive oil, paprika, and the crackers!
Wow your guests at your next get together. Here are the recipes I used:
---
Olive Oil Crackers
Recipe courtesy 101 Cookbooks
1 ½ cups semolina flour
1 ½ cups white whole wheat flour (or all-purpose flour)
1 teaspoon fine-grain sea salt
1 cup warm water
1/3 cup extra virgin olive oil
toppings you like – sesame seeds, poppy seeds, coarse sea salt
Whisk together the flours and salt. Add the water and olive oil. Mix and knead on a floured counter-top or in a mixer for 5-7 minutes. The dough should be just a bit tacky - not too dry, not too sticky to work with.
When you are done mixing, shape the dough into a large ball. Cut into 12 equal-sized pieces. Gently rub each piece with a bit of olive oil, shape into a small ball and place on a plate. Cover with a clean dishtowel or plastic wrap and let rest at room temperature for 30-60 minutes.
While the dough is resting, preheat your oven to 450F degrees.
When the dough is done resting, flatten one dough ball. Using a rolling pin or a pasta machine, shape into a flat strip of dough. Pull the dough out a bit thinner by hand. Set dough on a floured (or cornmeal dusted) baking sheet, poke each cracker with the tines of a fork to prevent puffing, add any extra toppings, and bake for 6-8 minutes, until deeply golden.
Repeat the process for the remaining dough balls. Let cool before eating.
Yield: 12 large crackers
Prep Time: 60 minutes (including the rest)
Cook Time: 15 minutes
Difficulty: Medium
---
Hummus
Recipe adapted from allrecipes.com (RC2STEP)
2 cups canned garbanzo beans (chickpeas), drained
2 tablespoons tahini paste (add more if desired)
1 lemon, juiced (add more if desired)
1 teaspoon salt
¼ teaspoon red pepper flake
2 garlic cloves, smashed
2 tablespoons olive oil, divided use
½ teaspoon paprika
Place the garbanzo beans, tahini, lemon juice, salt, red pepper, and garlic in a blender or food processor. Blend, and drizzle in 1 tablespoon olive oil as the mixture is being blended. Continue to blend until smooth.
Adjust to taste (add more tahini, salt, lemon, etc. as desired).
Transfer mixture to a serving bowl. Drizzle 1 tablespoon olive oil over the mixture, and sprinkle with paprika.
Yield: 2 cups
Prep Time: 10 minutes
Cook Time: none
Difficulty: Easy