Chole, or
chana masala
, is probably my favorite Indian dish. It's the best food to make ahead - and in fact, probably gets better if left to marinate and let the spices really combine and settle in. I like to make a big batch on Sunday, which gives me an easy meal, ready to reheat whenever, when I am too lazy to make anything else or to go out. I've made it so many times I can probably make it in my sleep. And I never get tired of it.
Mine, admittedly, is a somewhat bastardized version with subpar spices. But it's good enough for me - I enjoy it quite a lot. I've modified my recipe for dorm room cooking.
First, chop up a small white or yellow onion. (If I had to state a preference, a sweet yellow onion might do well here.)
Then, mince some garlic and stem ginger. I go for about 2 tablespoons worth of ginger and 1 tablespoon worth of garlic.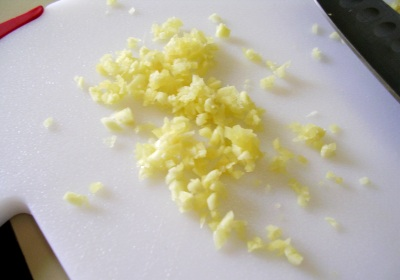 Put the onion and garlic and ginger in a
large
microwave-safe bowl. (If you're cooking on the stove, do it the normal way: toss all of that into a large skillet over medium-high heat with some vegetable oil.) Toss in your spices: 2 teaspoons cinnamon, 3 tablespoons curry powder, 1 teaspoon chili powder (yea, like the kind used for making bean chili), 1 teaspoon red pepper flakes. Give or take, haha. I usually end up adding more spices at the end, to taste, anyway.
Stir all that together, cover the bowl with plastic wrap, and microwave on 60% power for about 8 minutes, depending on your microwave. Enough to let the onions soften. You'll definitely notice the difference when the onions are cooked. If you're unsure, pop the bowl out and check periodically - poke them to see if they're softened.
It'll look like this: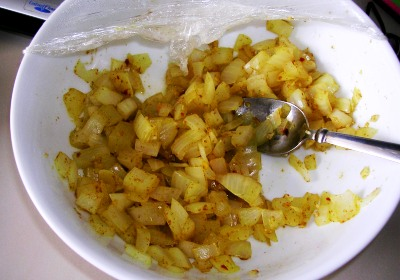 Then, toss in 1 small can of unseasoned tomato sauce, 1 can diced tomatoes (drained), 2 tablespoons sugar (to counteract the sourness of the tomatoes) and 2 cans of chickpeas (drained).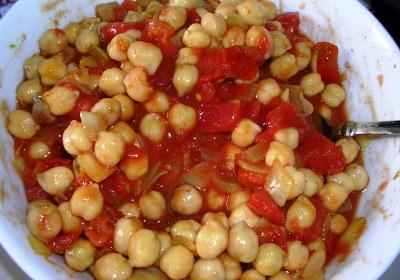 Stir it all together, cover with plastic wrap, and microwave on 60% power for about 10 minutes. (Stop it at the 5 minute mark to give it a stir. This is the point at which you'd add more of whatever seasoning you deem is needed.) Note that canned chickpeas are ready to eat, so really, at this point, all you're doing is heating the dish through and letting the spices combine.
Serve with basmati rice.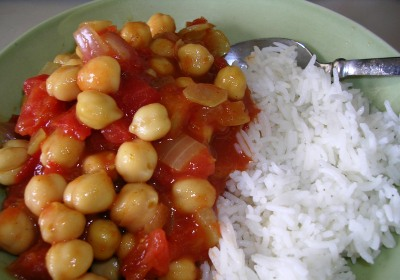 Yes, it doesn't sound like much, but this dish is a winner, trust me. Just looking at that makes me hungry...