Another one from the archives (that I never posted). I call this one "Caprino" because the sandwich has goat's milk cheese, and Caprino is an Italian goat cheese.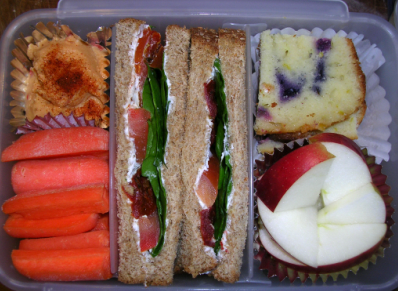 On the left, we have roasted red pepper hummus, sprinkled with paprika, and carrot sticks. In the middle -- a sandwich of fresh tomatoes, baby spinach, sundried tomatoes, goat cheese, and salt and pepper, on wheat bread. (If I were to make that one again, I would add fresh mozzarella, because it was lacking in... substance? If you get my drift.) On the right, pieces of an apple, and some small pieces of my
blueberry lemon yogurt cake
.
I also had a side container filled with Greek yogurt, honey, and blueberries. I tried to arrange the blueberries to look like a fish. (Can you tell?)
Man, I could really go for some of that cake right now....