French lemon cream and whipped cream in a mini sweet tart crust.
So, I had one lemon left in the fridge. What to do with one lonely lemon? A normal person would probably make fresh lemonade.
Obviously, I am not a normal person.
I took one look at that unsuspecting lemon, and my first thought was, "I could really go for a lemon tart right now." And I recently saw these
adorable
new pastries at
La Madeleine
-- mini lemon tarts. So I decided to make some of my own.
I took the recipe for Dorie Greenspan's lemon cream tart (from
her cookbook
). I divided her recipe for the lemon cream so that I was only making a third of it, and I divided her recipe for a sweet tart dough in half. (Amazingly, when you take the lemon cream to a third, you only really need 1 lemon. Mwahahaha.)
First, the tart dough. Cutting butter into flour and confectioner's sugar:
Then, slowly drizzle in an egg yolk. This is how the mixture looks after pulsing in the egg yolk:
It looks really crumbly, but it binds together well when you press it. I greased and floured a mini-muffin tin and pressed the tart dough into each cup:
Pop them into the freezer for 30 minutes to get them to hold their shape (that way, you don't need weights in the cups), and cover them with foil to keep them from burning as you bake. The original recipe called for blind baking the crust for maybe 25 minutes? I don't remember. I ended up only baking them for about 12.
All done and cooling:
Now. Onto the cream. I love making creams and curds. I find that they're easy to make, not too sugary, and impressively delicious. Rubbing the zest of one lonely lemon into the white sugar:
Then you whisk in one egg and lemon juice (juice the heck out of that one lemon, but hopefully that's all you'll require). Then, cook the entire mixture on a double boiler, whisking constantly.
This is on the double boiler, as the curd starts to set:
Once it gets to that point, per the recipe, set it aside to cool for 10 minutes. Then, pour the lemon mixture into a food processor or blender, and blend in the butter. I ended up using two tablespoons less than the original recipe would've required -- but I felt there was enough butter in there, and it tasted fine to me. Taste as you go!
Lemon cream, all done: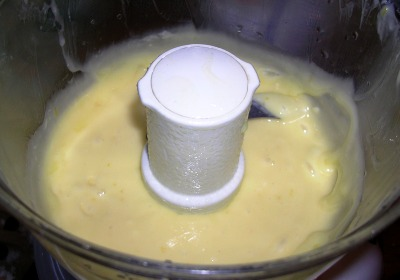 Since there's room temperature butter in there, the cream will finish off rather liquidy. It'll be lemon soup. No fear! Put it in the fridge overnight and by morning, it will have set, and you will have a beautiful thick lemon cream.
I piped the cream into the mini-tarts. Then, I made a really quick whipped cream using my last dredges of whipping cream and some confectioner's sugar, and piped little dots of cream on top of each tart.
Happiness! Now
that
is how to use a lemon.