Mocha coffee cake with vanilla Swiss meringue buttercream, dusted with cinnamon.
This cupcake came together rather on a whim, because I had a bottle of mocha frappuchino from a coffee shop chain that shall remain nameless. But I didn't feel like drinking it. So, what to do? Naturally, we make it into a cupcake.
I used a normal cake batter recipe, except I poured in mocha frappuchino instead of milk:
I also mixed in some instant coffee crystals (which dissolved nicely) to add extra coffee flavor to the batter.
After all that is mixed in:
Filling the baking cups:
While the cupcakes were baking, I made a Swiss meringue buttercream. I've tried making a Swiss meringue buttercream before, but I was disappointed when all I got was a curdled soup. I tried again, this time making sure that all the sugar dissolved into the egg whites before whipping them. I also whipped the butter separately before adding it to the meringue.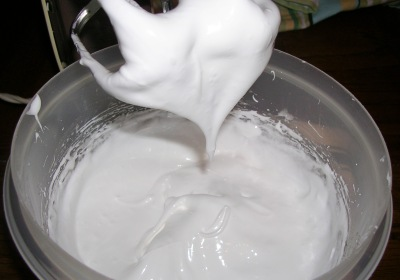 It worked! It came out a lot better this time.
Mid-decorating:
I topped the whole thing with a dusting of cinnamon, and there you go. A frappuchino cupcake.
The coffee flavor didn't come out as strongly as I would've liked, so next time, I'm going to add even more instant coffee. But tasty, nonetheless. :)