Cinnamon buns kind of take a lot of time. They're usually made out of a yeast dough, so it requires a lot of inactive prep time to let the dough rise. There's no way around it -- if you want fresh cinnamon buns for breakfast, I suggest waking up early and then taking a nap while the dough rises. (Which is what I did.)
The recipe I found on allrecipes.com called for heating milk, sugar, and vanilla in a saucepan. Then you stir in yeast, flour, and salt.
After the mixture rises for an hour:
Then you add more flour, and knead out the dough into a rectangle.
Brush on a layer of melted butter:
Sprinkle on cinnamon and sugar: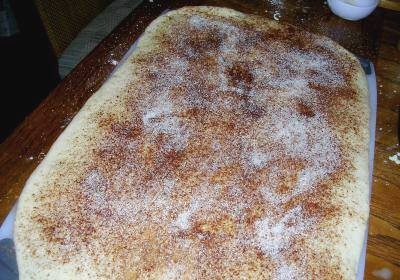 Roll up the rectangle and pinch the seam. Cutting the rolls:
I placed them in a buttered baking pan. I spaced the rolls pretty close together so that all the sides would connect as they baked -- that way, they're nice and soft on all sides.
After the buns bake:
I made a quick icing out of confectioner's sugar, milk, coffee, and vanilla. I love how easy icing is to make -- take confectioner's sugar and a little liquid, and you've got icing. I suspect it has to do with the fact that confectioner's sugar contains some cornstarch...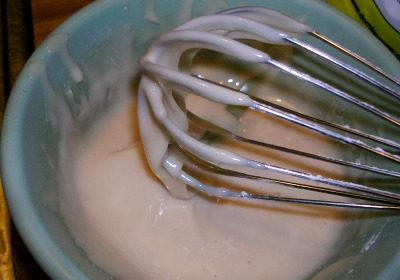 After the cinnamon buns are iced:
There you have it! Soft and yummy cinnamon buns.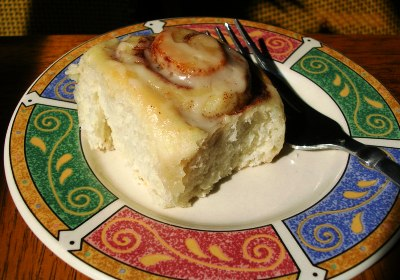 Totally worth the wait!