Peanut butter cake with grape jelly buttercream and candy topping.
Sorry I haven't updated in so long! My internet has been down, and I've been running around so much lately that I haven't had a chance to sit down and update this thing, even though I've had pictures ready for ages.
So I wanted to make a cute cupcake for my friend Ana's birthday. It's no secret that her favorite colors are purple and pink, so I decided to make a cupcake that would match these colors. Fortunately, I've been wanting to try making a peanut butter and jelly cupcake for quite some time, so this was a great opportunity!
First off, I replaced about half of the butter in my normal cupcake recipe with peanut butter. And that's the only change I made, really.
The butters and sugar:
This is what the mix looks like after it's been beaten until "light and fluffy":
And this is what it looks like after the rest of the ingredients (flour, eggs, buttermilk, etc.) have been added. Doesn't it look delicious?! It smelled really good, too -- nice and nutty. I just kind of wanted to put my face in it, but I restrained myself.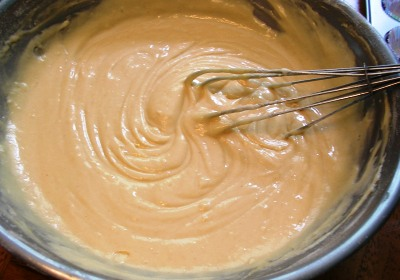 While the cupcakes were baking, I made a grape jelly buttercream. The concord grape jelly actually made the mixture look kind of pink, so I used some purple color gel to make the color stand out more. The grape flavor didn't actually come through that well in the buttercream, so in hindsight I would recommend using something like grape fruit juice concentrate to get the real grape flavor.
I actually made mini-cupcakes, which I thought would be cute and easy to eat at a party. Mid-decorating:
I colored some fondant pink, and I used pink Skittles to decorate the mini-cupcakes. The color contrast doesn't actually stand up well under the camera flash, but you can still read it.
For comparison's sake, here is another batch of mini-cupcakes I made for my other friend, Sakisha, whose birthday we were also celebrating. (It's red velvet cake with cream cheese frosting. I've already made that cupcake before on this blog, so I didn't feel like I needed to go step-by-step on this one.) I colored some red fondant for the letters, and I used red Skittles. (Sakisha happens to like red.) This one shows up way better because of the white frosting.
And, finally, the PB&J cupcake, close up:
More posts to come soon!