Layered blue velvet, white, and red velvet cake with vanilla buttercream icing and Pop Rocks candy.
Obviously, these were made for a 4th of July party. I got the idea for this cupcake based on a firecracker cupcake recipe I saw online -- mostly the Pop Rocks idea. I made my own cupcakes to better resemble those popsicles of the same name. The Pop Rocks candy on top is the "firecracker" bit.
I split my batter into three equal portions. I actually made the three batters individually, because it occurred to me that I didn't know how I could evenly split the batter apart
after
the thing had been mixed together, since I didn't know what the total volume would be. It took a little more work to do three separate, but at least then I knew I would have equal proportions of each color.
The blue velvet and red velvet batters each have a bit of cocoa powder and food color mixed in. The white batter is just a basic white cake recipe.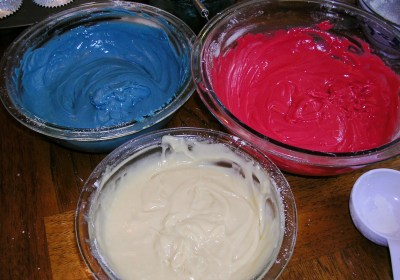 I then used my cookie scoop (a mini ice cream scoop), and layered in first the blue, then the white, then the red batter into each cupcake liner.
The cupcakes, ready to go into the oven. It doesn't look like much, but believe me, it took a lot of work to get to this point!
After they come out of the oven. And I bit into one, to show what the insides look like: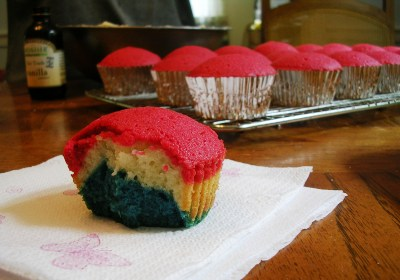 The cupcakes, mid-decorating. The buttercream came out sort of custardy-looking, because I've been playing around with the butter/shortening proportions in my buttercream recipe. This one is mostly butter, so it looks very... buttery! But I thought the icing was nicely light and very tasty -- it doesn't hold up too well in hot weather, though.
Toppings-wise, I ran into a major problem. I could NOT for the life of me find any Pop Rocks at the supermarket. And I didn't get a chance to visit the convenience store before the party, so I had to compromise the topping for the cupcake. It made me sad -- that was the whole point of the cupcake!
What I used instead were blue raspberry Skittles and red decorating sugar. If I had my way, these would be topped with Pop Rocks.
By the way, if you try this and you want to use Pop Rocks -- I would recommend holding off on adding the Pop Rocks until right before you serve, as I would think the icing would cause the candy to react if left sitting for too long.
Happy (belated -- late post, I know) 4th of July!