Yep,
finally
. I've been trying to make these for forever, but I never managed to get up early enough on a weekend to get it done in time for lunch.
Naan
is a type of Indian flatbread that is made from a yeast dough. One of my favorites! And after looking at the recipe and realizing it wasn't so hard after all, I decided to make my own.
The yeast, sitting in warm water:
To that, you add a little milk, bread flour, a little sugar, salt, and an egg. After kneading that mixture for a bit, you come out with a dough ball that looks like this:
(Told you it's easy.) Cover the dough ball and let it rise in a warm place for an hour. Then knead it a bit again, and pull off pieces of the dough and roll them into small balls (about the size of a golf ball).
Let
those
rise for another half hour (covered). Then, take the balls and roll them out into thin disks: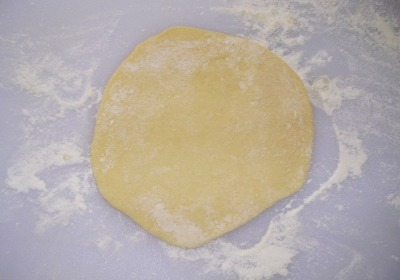 While you're rolling out the dough balls, get the grill (or frying pan or whatever) going. Also melt down about 1/4 cup of butter. (No worries, you won't need it all unless you like your naan kinda greasy. Some people do.)
Oil down the pan and toss on your first naan. You should see the bubbles coming up on the top side as it cooks. Like so: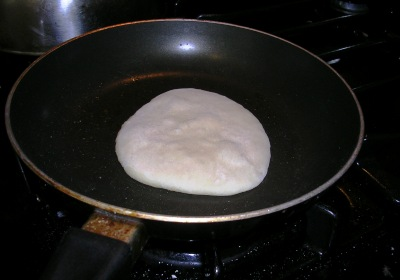 Once the bubbles start going, you're probably ready to flip. So brush some melted butter on the top side, and then flip away.
The only sad thing is that the bottom ends up looking like a flapjack, but what can you do?
The top looks perfect, though. And they were great! Nice and chewy, and they're GREAT when they're hot.
Serve with your favorite curry! I also happen to enjoy them with a good thick chili, too.