Yellow sweet peaches with cinnamon crumble topping in a pastry crust.
Admittedly, this pie is due to an episode of
Pushing Daisies
, in which a customer says something like: "What is that amazing smell I'm smelling?" To which Chuck (who is holding a pie) responds, "Is what you're smelling Georgia peach cobbler?" "That's exactly it." "Then I'm the guilty Georgia peach. :)"
Anyway! Ever since seeing that, I've been wanting to make a peach cobbler pie.
So I started off with the crust. Pulsing together the flour, salt, sugar, and butter in a food processor:
After slowly dripping in a couple of tablespoons of ice water and pulsing the mix some more, the dough particles start to roll together into a ball:
Then, you turn all of that out onto a floured surface. Press it all together into a flat disk and refrigerate for about an hour.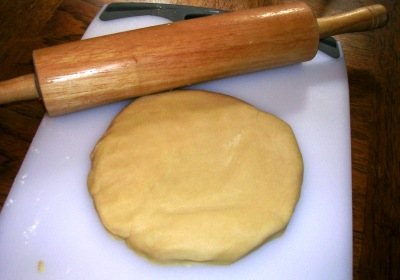 In the meantime, clean and peel and slice some peaches. Rather than pink Georgia peaches, I used yellow sweet peaches. As I cut and sliced them, I dropped them into a bowl of acidulated water (water and lemon juice) to keep them from turning brown. Apparently, the lemon juice also helps to keep the peaches intact as they bake (rather than disintegrating onto peach pulp).
Then, I drained the peach slices and mixed them together with some brown sugar, white sugar, cinnamon, and honey.
I also mixed in some flour, a little bit of cornstarch, and salt, and tossed the whole mix together with my hands.
By this time, the pie crust was ready to go, so I rolled out the cold disk and pressed it into my pie pan. I put a thin layer of plain bread crumbs on the bottom to keep the crust from getting soggy.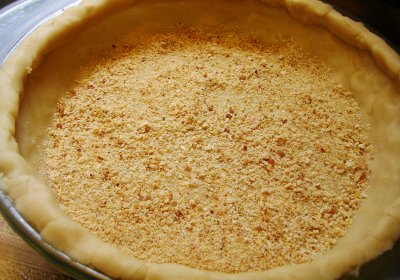 How the pie looks after pouring in the filling:
I made a quick crumble topping using flour, butter, oats, brown sugar, and cinnamon. Then, I covered the peaches with the crumble mix:
Brush the edges of the pie with egg wash, and then you're ready to bake! How the pie looks, after coming out of the oven:
It was a delicious pie! I love yellow peaches, and after baking, they are all nice and soft (but still substantially intact). This pie actually reminded me of apple pie, but with peaches. I think it's a keeper.