I made biscuits over the weekend for a family dinner. Biscuits are super easy to make, so I expect you all to give it a try when you want to eat biscuits -- instead of using the canned stuff.
You don't even need to sift your flour. Just give it a quick whisk (along with salt and baking powder) in the bowl:
You can cut in the butter by cutting it with a pastry cutter or two knives. Or you can do what I do and save yourself a lot of time -- use a box shredder to shred the cold butter into nice small pieces.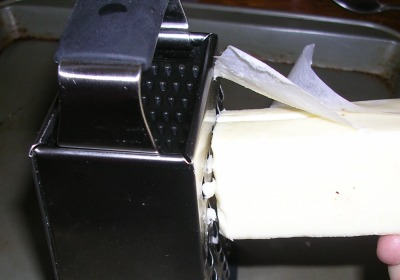 Once you rub in the butter pieces and stir in the buttermilk, you'll have a loose, sticky mass of dough. It'll look something like this:
After a brief knead or two, turn the whole thing out onto a floured board and roll out the dough into a thick, even layer. (About half inch thick? These biscuits don't rise that much, so roll it to the thickness you want them to be.)
Cutting out the biscuits with a circle cutter:
Everyone lined up on the pan:
And waiting to be eaten! These didn't brown as nice as I would've liked, because I had to stick them on the bottom rack of the oven since my mom had other food cooking on the upper rack.
Tasty, though.