Lemon syrup cake with blueberry buttercream, topped with fondant star.
With Father's Day coming up, I wanted to make a blue-ish cupcake. Yes, a strange desire, I know. But work with me here.
I am also a big fan of the flavor combination of lemon and blueberry, so I thought it'd be great to bring them together in a cupcake.
For the cake part, I added lemon zest to the batter.
And, while the cupcakes baked, I made a simple syrup using lemon juice and granulated sugar. While the cupcakes were still hot, I drizzled the lemon syrup on top to let it absorb into the cakes.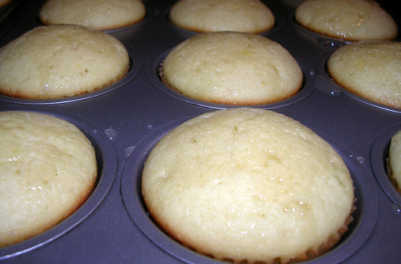 I made a blueberry buttercream using blueberry preserves. Problem being, blueberries are actually... purple. I ended up with a nice lavender color, which I doctored with a few drops of blue food coloring to make the color stand out more.
I colored a ball of white fondant with yellow food color. Then, I made fondant "suns" (I guess they're really stars, but again, work with me here) using a fondant cutter.
The cupcakes, all assembled:
And here's the glamor shot. I've been trying to improve my food photography skills. Does it show? :)
And indeed, it was a tasty cupcake. You can never go wrong with this flavor combination.