Red velvet cake with cream cheese icing and red decorating sugar.
Apologies for not updating! My internet was down for a grand total of two weeks, so I didn't get a chance to update my baking activity as it was happening. I'm back-dating these entries in May to more accurately reflect when and what I made.
Red velvet cupcakes always confound me. As a kid, I was never quite sure what they were made of, and even now, knowing exactly what they are, I still can't quite figure out what it means to be "red velvet."
Red velvet is a Southern cake recipe that is basically known for its color. The theories range -- some folks think the red is from the reaction of the cocoa powder and vinegar and buttermilk, some think it's because Dutch processed cocoa (more widely available then) was reddish, some think it's from food color, some think it's from beet juice.
Me? I'm of the modern opinion that red velvet just means a red cake with a little bit of cocoa powder in there to make things interesting. Oh, also, use buttermilk. But you had already been doing that with your cakes anyway, right? ;)
In the following picture, I had added red food color and about half a cup of cocoa powder to my buttermilk. I incorporated that mixture into my batter, along with my flour mixture.
After the two are mixed together...
It looks like blood cake batter! Count Dracula would be happy.
Now, for this cake, I made a cream cheese frosting, but I made the grave error of attempting a frosting with lowfat cream cheese. I have made cream cheese frosting before, but always with normal whole fat cheese. I just wanted to see what would happen with the lowfat variety. Disaster! For some reason, the confectioner's sugar disintegrated the cream cheese, causing it to lose its firmness. I had basically made cream cheese frosting soup.
Tasted good, though.
The lesson here is to use whole fat everything in baking! :) What was I thinking?
I
carefully
ladled the frosting on top of each cupcake so that it wouldn't drip off, and let the frosting set in the fridge.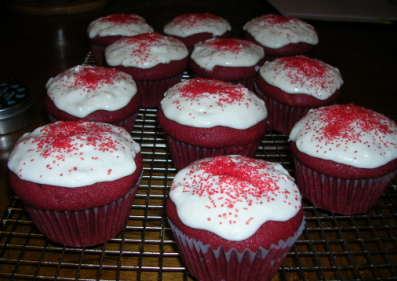 You know what? It doesn't look bad, all things considered. And it tasted awesome.