Banana cake with strawberry buttercream, topped with chopped nuts and chocolate syrup.
I wanted to make these cupcakes for a while. It's quite a simple concept, but I haven't seen the flavor around a lot. Think about it -- banana cake, strawberry buttercream, chopped nuts, and hot fudge on top. Mmmm.
I only made a half dozen of these cupcakes (basically cut my recipe down by a third), so I only smashed about half a banana to put into the batter.
Alright, so it ended up being seven cupcakes in total. What is that? A baker's half dozen?
While the cupcakes were baking, I made my buttercream. It's the basic buttercream, but I added strawberry jam in there. And I'm sure you all know this already, but when you're filling your piping bag, be sure that there aren't any air pockets! You don't want to be on a piping roll, and then suddenly have your work be ruined when your piping bag decides to cough out on you. Literally!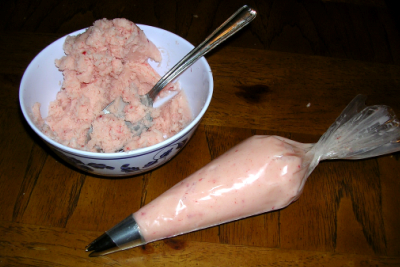 The cupcakes, cooled and mid-decorating. (I drizzled Hershey's syrup on top, and sprinkled on some chopped peanuts.)
What these banana split cupcakes REALLY need? Maraschino cherries! Wouldn't they have been PERFECT?! I thought so, too. I combed my entire supermarket looking for maraschino cherries, and I couldn't find them. Not even in the mixed drink section. SIGH. Imagine there are maraschino cherries on them, because that's what I imagined they'd have.
I'm giving some of these cupcakes away. I had found these cute little cupcake boxes at the arts and crafts store. They're perfect! And they have these cup-holder-type holes to keep the cupcakes in place. Ha, take that, Magnolia.
Ta-da! Remember to imagine the maraschino.