Confetti cake with vanilla buttercream icing and rainbow nonpareils.
Confetti cupcakes are not the most complicated cupcakes around, but they're a crowd pleaser. Sure, you can use a box mix to make confetti cake -- but if you're looking to use box mixes, you're reading the wrong blog, buddy.
I use a normal yellow cake recipe. Right before I scoop out the batter into the cups, I fold in a little under 1/4 cup of rainbow sprinkles. I advise against trying to use any more. As the sprinkles melt, they change the composition of your batter, and will cause your cupcakes to collapse under the extra sugar as they bake. This way, you get the confetti effect without sacrificing your batter.
If you use the small nonpareils (the tiny balls), it's important that you fold them in JUST before you're ready to scoop, because they're small and the sugar melts quickly. You can see that the sprinkles are already disintegrating below:
Voila! The baked cupcakes. Cute, eh?
Since this is such a straightforward cupcake, I like to do something different with the decoration. I piped on the icing with a large star tip (you can just use a knife to spread it on, too). It's important to go right to the edge of the cupcake. Then, use a butter knife or a spatula and hold it perpendicular to the circumference of the cupcake, and run it around the edge to smooth out the frosting. You're trying to make a smooth "fence" around the icing.
Why? To roll the edges in sprinkles!
Just pour some sprinkles onto a sheet of parchment paper, and roll away!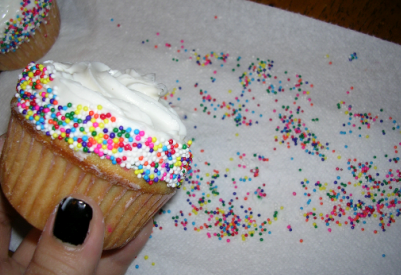 If you're curious, this is what it looks like when you bite into the cupcake. You can see the confetti inside! And outside! Will wonders never cease.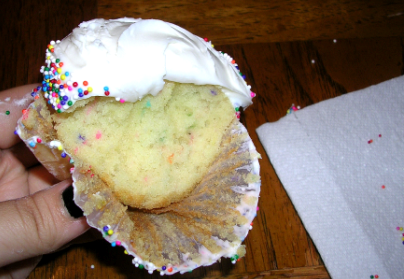 I always have to end with a cupcake glamor shot. Confetti cupcake, ready for its close-up.
It's definitely a fun cupcake to eat, although not the fanciest. Everyone seems to like them a lot!